This post is being updated with reports of atrocities around the army camp accommodation and hotels, and other Home Office plans to accommodate people in new sites:
Updated 18 September 2021: Humans for Rights Network   ·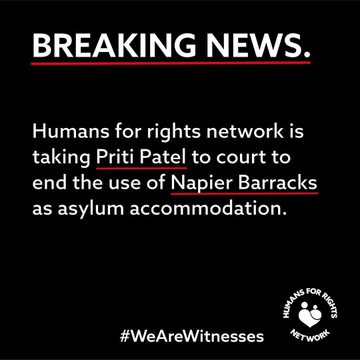 We believe the Home Office is breaking the law by using Napier barracks as asylum accommodation and that's why we are taking @pritipatel to court. In light of the announcement that our Government plans on continuing to use the site to accommodate asylum seekers until 2025, we are left with no other option than to challenge this decision and call for its closure in the courts. Napier barracks is experienced by many held there as a detention camp or prison and was found by the high court to fall short of the minimum standards for asylum accommodation. People seeking safety in the UK should be provided with safe, secure, private accommodation with access to help and support within communities, not held in dilapidated army barracks. Humans for Rights will continue to advocate alongside these men, ensuring no further harm is done to others forced to live there.
#wearewitnesses#napierbarracks#closethecamps#breakingnews#hfrn#humansforrights#refugeeswelcome#humanrights#legalaction
and other reports: here: https://statusnow4all.org/intervention-by-the-courts/
---
Updated 17 September 2021: House of Lords SECONDARY LEGISLATION SCRUTINY COMMITTEE
Drawn to the special attention of the House: Town and Country Planning (Napier Barracks) Special Development Order 2021
Piloting new processes
Instruments drawn to the special attention of the House: Town and Country Planning (Napier Barracks) Special Development Order 2021 (SI 2021/962)
Continue reading

"Concerns about the use of army barracks, hotels etc."