Major trade unions – including the BMA, NEU, NASUWT, GMB and PCS – have come together with over 50 migrant organisations, to call out the government's plan to fund a public sector pay rise through higher NHS and visa fees for migrants.
Joint Statement
As trade unions and migrant organisations, we stand against this Government's attempts to pit worker against worker. We know that an injury to one is an injury to all.
All workers deserve decent pay, safe working conditions and protections if our bosses seek to take advantage of us. Public sector workers deserve pay rises, but we strongly oppose any decision to fund this by further taxing migrants, by hiking visa costs and NHS fees. This is a blatant attempt to sow division within the labour movement and our communities.
Increasing the Immigration Health Surcharge by 66% and increasing visa costs will push ever more people into destitution and poverty. The UK already effectively taxes migrants twice for healthcare, and has some of the most extortionate visa fees in Europe – a migrant family of four often has to pay around £50,000 over 10 years for the right to stay. This massive increase is simply unaffordable – it will price workers out of being able to afford a visa and force thousands further into poverty during the cost of living crisis, or out of the country.
Migrant workers are a vital part of our communities and our workforce. They are the backbone of our public services, and our migrant members already face the hostility of the immigration system. No worker should be pushed into poverty, unsustainable debt or homelessness simply because of the papers they hold.
We urge the Government to abandon its plans to increase NHS and visa fees for migrants and meet the pay demands of our public sector workers through progressive taxation which ensures those with the broadest shoulders contribute more to our vital public services.
Signed by: Read more: https://www.migrantsorganise.org/unions-migrant-organisations-statement-public-sector-pay-rise/
---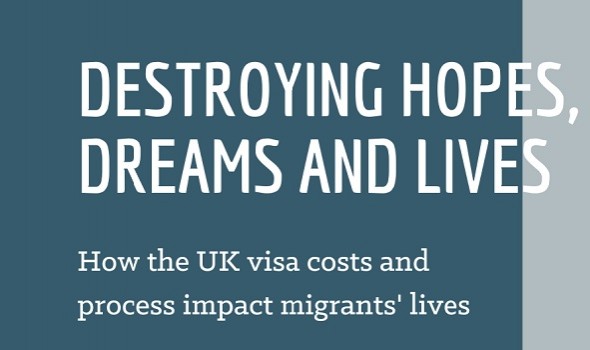 As part of our campaign to reduce extortionate visa costs, we're launching a report on the impact that visa fees and the visa application process has on migrants.
Read the report here.
The report shows how the cost of visas puts a strain on the lives of innumerable migrants and their families.
A migrant on a route to settlement pays at least £2,593 every 2.5 years for a visa application and NHS surcharge. Many face additional costs, including legal fees. All this comes on top of the taxes and bills they pay along with everyone else. Many are not entitled to access public funds, such as housing benefits.
And it doesn't end here: in some cases, migrants are being charged more than seven times the administrative cost of their visa.
Based on the experiences of more than 100 migrants, some of the key findings from our report are:
People can expect to pay tens of thousands of pounds per person during their settlement journey. Two thirds of respondents reported they spent thousands of pounds in additional costs alone, including the International Health Surcharge.
Two thirds of migrants we have spoken to are or have been in debt to afford their visas.
Over half the respondents came to the UK over a decade ago, yet many still have no citizenship or Indefinite Leave to Remain. Their status is still temporary, and they risk losing it with each renewal process.
95% of respondents told us they had extremely negative feelings about their situation; 'Living hell', 'terrible', 'hopeless, 'mental torture' and 'ruined life' were among the words used.
The impact was felt in every area of life, from hunger and health, with one respondent saying: "I can't feed my kids due to the visa fees and borrowing money", to vulnerability at work, from strained relationships to mental distress.
The burden of visa costs and the debt many people find themselves in has a knock-on effect on the next generation, as people told us they could not afford to support their children with higher education and other life opportunities.
It is clear that the current system is impacting the lives of hundreds of thousands of migrants, who benefit and enrich our society every day.
We believe the British immigration system needs to change, and we offer these recommendations:
Reduce visa fees for adults to administrative costs only, and abolish fees for children
Abolish the Immigration Health Surcharge
Cut the time needed for permanent settlement from 10 years to five
Speed up and improve the Home Office decision-making process and communication with visa applicants
Introduce a quicker, simpler, less stressful visa application process
The report was launched on 27 April 2022 from 5 – 7PM in the Houses of Parliament.
Follow our social media to stay updated about the event. You will hear from Migrant Voice about the findings of our research, from legal and policy experts on how we can create a fairer visa and immigration system and from many migrants who will share their first-hand experiences of the impact of having to pay these extortionate visa fees.
Read the report here.